Bulk Spools
For high volume users, or for resale in cut lengths, FLEXO™ Flyflex™ is available on convenient 5 5/8" diameter x 2" high minispools designed to fit into our exclusive acrylic dispenser.
The acrylic dispenser tube will hold up to 6 spools and is engineered to either sit on a counter or hang securely from its slatwall hanger. The clear acrylic makes inventory and reordering easy and the wide dispensing slots allow easy access to the material for cutting.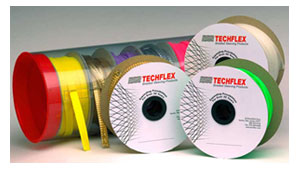 Standard Spool Lengths
Diameter
Colors
Metallics and Pearls
1/8"
225'
NA
1/4"
200'
200'
3/8"
125'
NA
1/2"
100'
100'
BULK FLEXO™ Flyflex™ PART NUMBERS
Diameter
Color
1/8"
1/4"
3/8"
1/2"
Black*
FLN0.13BK
FLN0.25BK
FLN0.38BK
FLN0.50BK
White*
FLN0.13WH
FLN0.25WH
FLN0.38WH
FLN0.50WH
Silver*
NA
FLN0.25SV
NA
FLN0.50SV
Clear*
FLN0.13CL
FLN0.25CL
FLN0.38CL
FLN0.50CL
Purple*
FLN0.13PP
FLN0.25PP
FLN0.38PP
FLN0.50PP
Neon Pink*
FLN0.13NP
FLN0.25NP
FLN0.38NP
FLN0.50NP
Neon Green*
FLN0.13NG
FLN0.25NG
FLN0.38NG
FLN0.50NG
Gold*
NA
FLN0.25GL
NA
FLN0.50GL
Blue
FLN0.13BL
FLN0.25BL
FLN0.38BL
FLN0.50BL
Green
FLN0.13GN
FLN0.25GN
FLN0.38GN
FLN0.50GN
Orange
FLN0.13OR
FLN0.25OR
FLN0.38OR
FLN0.50OR
Red
FLN0.13RD
FLN0.25RD
FLN0.38RD
FLN0.50RD
Yellow
FLN0.13YL
FLN0.25YL
FLN0.38YL
FLN0.50YL
Gray
FLN0.13GY
FLN0.25GY
FLN0.38GY
FLN0.50GY
Beige
FLN0.13BE
FLN0.25BE
FLN0.38BE
FLN0.50BE
Neon Blue
FLN0.13NB
FLN0.25NB
FLN0.38NB
FLN0.50NB
Neon Red
FLN0.13NR
FLN0.25NR
FLN0.38NR
FLN0.50NR
Neon Yellow
FLN0.13NY
FLN0.25NY
FLN0.38NY
FLN0.50NY
Crystal Pearl
FLN0.13CP
FLN0.25CP
FLN0.38CP
FLN0.50CP
* Are the most commonly used and recommended colors.