Flyflex™ The Movie
Learn the most effective techniques for working with FLEXO™ Flyflex™ expandable body material from Richard Whitner.
Richard is currently living and fishing in Louisiana and is one of the region's most noted fly tiers. He's been fishing most of his 40 years and started tying flies when he was 12 during a childhood spent chasing everything from bass to stripers in his native New Jersey. Whitner's patterns have collected 11 IGFA saltwater world records, including several since he moved to New Orleans in 1996.
Richard is the developer of the infamous FLEXO™ Crab. Techniques for tying the Crab, as well as several other unique and effective flies tied with FLEXO™ Flyflex™ expandable body material are demonstrated on this video.
Whitner says the key ingredient to the Crab, and many of his other successful saltwater flies, is FLEXO™, the same braided mesh sleeving used in the manufacture of planes, cars and boats. It's strong and light, but flexible. "So when a fish strikes a pattern with FLEXO™, it feels like real food," he says. "What's even more important for the Crab is that water flows through it, which allows it to sink, but sink slowly."
About The Movie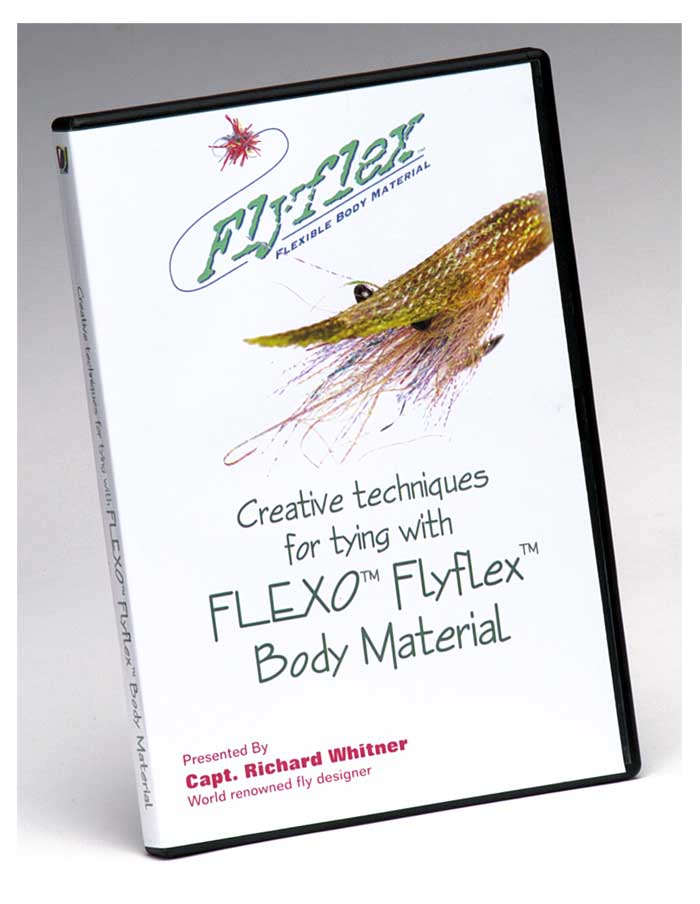 In the video, Richard touches on the basic techniques for tying with FLEXO™ Flyflex™ body material, focusing on preventing end fray and easy integration into standard finishing techniques.
He then goes on the vise to demonstrate techniques for tying 11 specific baits, including the FLEXO™ Crab and the FLEXO™ Popper, both currently marketed exclusively by Orvis.
Follow Richard's step-by-step instructions as he ties these unique and effective patterns:
FLEXO™ Secret Urchin Fly
FLEXO™ Conehead Minnow
FLEXO™ Lizzard
FLEXO™ Magna Herring
FLEXO™ Dragonfly Nymph
FLEXO™ Kiraw (Small Shrimp)
FLEXO™ Popper
FLEXO™ Grub
FLEXO™ Worm
FLEXO™ Mullet
If you are an online FLEXO™ Flyflex™ resource and would like to have your link included on this page, please contact your Techflex Account Representative.
FLEXO™ Flyflex™ Fly Tying Video - DVD Only
Click here to order
Instructional video is the ideal tool for learning tying techniques with one of the masters of FLEXO™ Flyflex™ expandable body material.
Sold in case quantities only. Packed 3 units per case